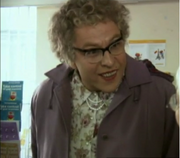 Mrs. Emmery is an O.A.P who, in public places (while talking to someone), has an odd tendency to start urinating on the floor.
Mrs. Emmery

Name
Mrs. Emmery (first name unknown)
Age
Over 60
Gender
Female
Country
England
Occupation
Retired
Season
3
Played By
David Walliams
She seems unaware of this problem, as seen in one of Season 3 episodes, where she is visiting the Doctor, because of her swollen knee. When she has finished urinating, she often mistakes the urine for a leak somewhere. She usually urinates when talking to someone such as in the Supermarket or The Bank.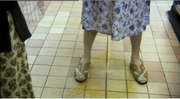 Ad blocker interference detected!
Wikia is a free-to-use site that makes money from advertising. We have a modified experience for viewers using ad blockers

Wikia is not accessible if you've made further modifications. Remove the custom ad blocker rule(s) and the page will load as expected.